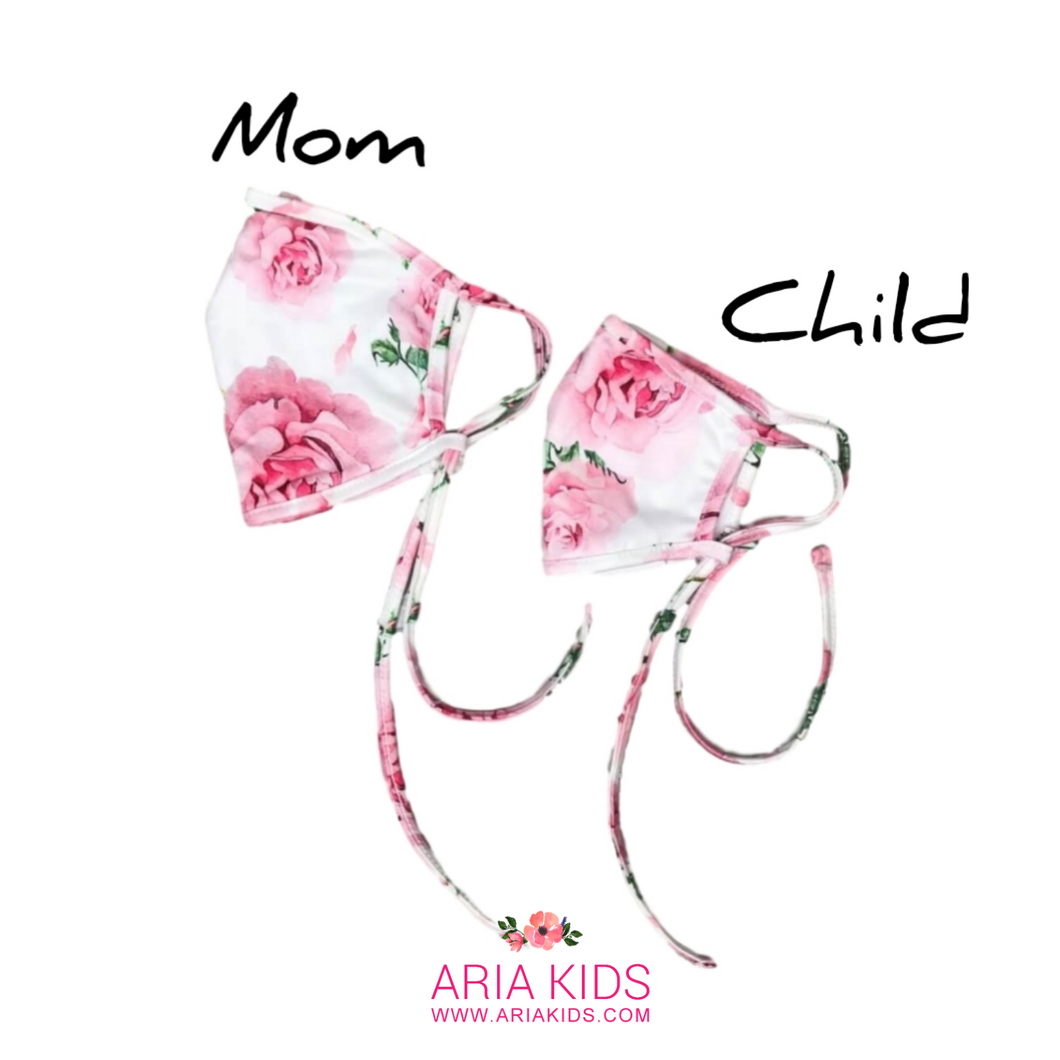 Mommy & Me - Rose Pink Face Mask
Regular price $ 30.00 USD $ 12.00 USD Sale
Girls love to match with their moms! Protect yourself and your little one with our new reusable and washable fabric masks. Featuring a pretty in Pink Rose Floral print. Stay safe, pretty and stylish!
* Choose from many options:
Adult & Child - Set of 2 (child out of stock)
Adult - Set of 2
Child - Set of 2 (currently out of stock)
Adult only - 1 piece
Child only - 1 piece (currently out of stock)
Details:
* Double layer face mask.
* Side open pocket for filter to provide full protection. (One Filter INCLUDED)
* Tie straps are adjustable for a custom fit. Ties at the back of the neck.
* Material: Super SOFT and stretchy Milk Silk (Cotton/Poly/Spandex blend)
* Comfortable for prolonged use.
* Recommended Care:  Wash after each use. Hand wash or machine washable in a garment bag on gentle cycle. (Remove filter when washing mask)
Shipping: Ready to ship out to you next business day from California. Please allow 5-7 business days for delivery within the U.S.
ALL masks are FINAL SALE.
** CDC reviewed the latest science and affirms that cloth face coverings are a critical tool in the fight against COVID-19 that could reduce the spread of the disease, particularly when used universally within communities. There is increasing evidence that cloth face coverings help prevent people who have COVID-19 from spreading the virus to others.
** Legal disclaimer: The cover is not intended to act as a medical device or other medical product, and should not be used as a replacement for conventional and approved personal protective equipment, including surgical masks or respirators. No warranties, either express or implied, are hereby given that the cover will prevent infection or the transmission of viruses or diseases. The cover is not a substitute for professional medical advice, diagnosis or treatment. If you have any specific questions about any medical matter, you should always consult a doctor or other healthcare provider. Do not use mask on baby or infant. Kid masks should not be used for kids under 2.